Utah Workshop 4-DVD set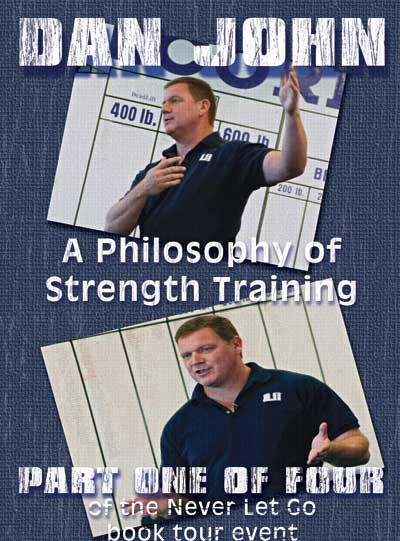 DVD review commentary written by Laree Draper
The first of the four DVDs filmed during our June 2009 IronOnline weekend in Draper, Utah, this two-dvd lecture (2 hrs, 18 min) covers what Dan considers the most important aspects of strength training for the athlete, as well as the general fitness enthusiast.
Told with humor and great insight, you'll learn:
The Role of the Strength Coach
Levels of Strength Coaching
How a Home Trainer Becomes His Own Coach
The Influence of Strength Coaching on Performance
Strength and Athletic Performance
How to Narrow Your Training Focus
Systematic vs Systemic Learning
Setting a Non-Competitive Training Goal
Phasic vs Tonic Muscles
How to Stay Youthful while Aging
Movements, Not Muscles
Dan's Hip Displacement Continuum
Find out why Coach John is considered the go-to guy by top fitness professionals when they want to know what really works in strength and conditioning: It's because he knows, and he teaches it well.
Also on this dvd, you'll find his chalkboard slides and seminar handouts via pdf files accessible from your computer. The other DVDs from the workshops, Olympic Lifting Basics, Perfecting Your Kettlebell Form, and Warm-ups, Workouts and Barbell Complexes, will be available this fall.
Click here to order your copy of A Philosophy of Strength Training with Coach Dan John, a two-DVD set for $39.95.
As I think about the new Dan John kettlebell dvd, part two of his four-part weekend seminar series DVD we're expecting from the replicator late in a few days, I again realize how much information he packed into the weekend. When you're in the thick of things, it's hard to comprehend the quantity of new information, or the value we get when guys like he and Dave simplify things to the core. That's what happened during our weekend in June, bullet by bullet Dan hit the target for our group of IronOnline attendees.
And as you know, we got it all on film.
One thing that will surprise most viewers is the true explosiveness of the ketttlebell swing. It's much more violent than what most will expect, and as it turns out… Dan was right, and it's a good thing. I liked my trusty, lazy old form of swings, and had no back pain experience to cause me to search for a new technique. Less than a half-hour into the workshop, I was convinced.
If you need some convincing yourself, you can order the new Dan John kettlebell dvd today.
In part three of the four DVDs from the Utah workshop weekend, we get a taste of Dan John's instruction for beginning Olympic weightlifting. Our original idea was this would be primarily for adults who've never lifted Olympic-style, and it's certainly that, however one of the attendees is a competitive Olympic lifting, who told me a couple of Dan's tips changed her lifting forever. So I'm thinking anyone interested in Olympic lifting will get something out of this one.
In this 80-minute DVD, Dan taught:
Olympic lifting overview
Snatch positions
Push jerk
Split jerk
The Jerk
Overhead squat
Goblet squat
Shoulder mobility
Putting weights overhead
Hamstring lengthening
Romanian deadlift stretch
Wrist flexibility
Having been at the event and as an adult with absolutely no Olympic lifting experience, I can tell you I left feeling fairly confident in my ability to snatch and jerk… a short piece of PVC pipe.
Seriously, it left me and the rest of the attendees with plenty of enthusiasm for learning the O lifts, and enough technique tips to give us a start on our own at home. Here's where to get your copy of Dan's Olympic Lifting for Beginners DVD, $29.95.
90 minutes of new training ideas!
And now we get to the final DVD of the series, in which he shows us his sample warm-ups, a few workout varieties, and his famous barbell complexes.
One of Dan's key phrases here was, "The warm-up is the workout," and as he puts our crew through the paces, you'll see how he can make that claim! He also uses members of the audience to demonstrate new movements, or to show his corrections when we went astray.
Dan shows his daily favorites:
Gait Warm-up
Goblet Squat & Bootstrapper Squat
Hip Flexor Stretch & RDL Stretch
Plank Series
Horizontal Shrugs
Maxercist and Parked Rows
Crocodile Pushups
Heartbeat Squat
Kalos Sthenos Getup
Ab Circuit
Star Plank
Barbell Complexes
A full warm-up series
Sample workouts, insights and more
Includes pdf handouts of the sample workouts, warmups and barbell complexes
Here's where to get your copy of Dan's 90-minute workout samples dvd, $29.95.